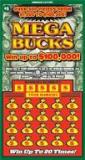 Man Wins Lottery by Mistake
We all love a heart warming story over the festive season so we were delighted to hear about the chap who won a couple of million US dollars by mistake.
The name of the lucky punter is Scott Bennett and he is from New Hampshire in the US. It seems that he wanted to buy a couple of different lottery tickets but got given two for the same lottery without realising it. It was a huge stroke which meant that one of these tickets turned out to be a winner for him.
The story took place in Scott's home town of Hillsborough. He went to a convenience store there and planned to buy a Lucky for Life ticket as well as a Megabucks one. For some reason the shop assistant make a mistake and he ended up walking away with a couple of Megabucks tickets instead.
Paying of College Debts and Getting the Kitchen Renovated
The amount which 48 year old Scott won in this rather bizarre way was a stunning $2.1 million. He decided to go for the $1.3 lump sum payment option and already has some great plans to spend the unexpected windfall in some sensible ways. As well as sorting out his kitchen he is going to pay off a couple of his kids' college debts and send another of them to college.
As the win happened in the run up to Christmas his wife also hinted that there would be some extra special gifts being purchased with the money as well, as she said that there might be a few extra presents under the tree this year.

Site Of The Month

Guts Casino
Guts Casino brings new games from BetSoft, Net Ent, Microgaming and IGT. New players can claim up to £300 and 100 free spins when they join guts.com.

Featured Site










Newsletters
Signup for your email updates.Get special offers, news, competitions and more!