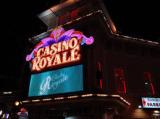 The Ten Hottest Casino Themed Films
By
Kelly Sharp
Here at Casino-Reviewer we love our films, so we thought we would combine two of our favourite hobbies together, and create a list of the ten hottest casino themed films.
1. Casino – Casino is a 1995 film by Martin Scorsese that follows two mobsters as they move to Las Vegas to operate the Tangier's Casino. It manages to capture the 1970's/1980's glamour of Vegas, whilst also showing its cruel and corrupt side. It boasts a star-studded cast that includes; Robert De Niro as Sam 'Ace' Rothstein, Joe Pesci as Nicky Santoro and Sharon Stone as Ginger McKenna. The film currently has an 8.2 Star rating on IMDB.
Casino Film Trailer
2. Casino Royale – The 2006 Casino Royale film follows James Bond on his first mission as 007. The film is also Daniel Craig's first outing as Bond, and is based around a high stake game of poker against the private banker, and weapons dealer Le Chiffre. This Bond villain suffers from Haemolacria that causes him to weep tears of blood. Daniel Craig stars as Bond, Mads Mikkelsen as Le Chiffre and Eva Green as Vesper Lynd. The film currently has an 8.0 Star rating on IMDB.
Casino Royale Film Trailer
3. Ocean's Eleven – Ocean's Eleven is the first film in the 'Ocean' Trilogy. It was released in 2001, and follows the adventure of Danny Ocean and his eleven accomplices as they try to rob three famous Las Vegas Casinos at the same time. The film stars; George Clooney as Danny Ocean , Brad Pitt as Rusty Ryan, Casey Afflek as Virgil Malloy, Matt Damon as Linus Caldwell and Julia Roberts as Tess Ocean etc. It currently has a 7.8 Star Rating on IMDB.
Ocean's Eleven Film Trailer
4. Ocean's Twelve – Ocean's Twelve is the sequel to the popular Ocean's Eleven film. It takes place three years after they stole $160 Million from casino owner Terry Benedict (Andy Garcia). Benedict wants his money back with interest, which causes Danny Ocean to add an additional member to his team. Expect plenty of plot twists, as well as a sea of famous faces including; Catherine Zeta-Jones as (Isabel Lahiri) and Elliot Gould as Reuben Tishkoff. It currently has a 6.4 Star Rating on IMDB.
Ocean's Twelve Film Trailer
5. Ocean's Thirteen – Ocean's Thirteen is the last film in the 'Ocean' Trilogy, and is based around a heist of a casino. Danny Ocean wants to take revenge on casino owner Willy Bank (Al Pacino) after he doubles crosses Reuben Tishkoff (Elliot Gould). The film once again has a stellar cast including the original Ocean's Eleven and some new faces. It currently has a 6.9 Star rating on IMDB.
Ocean's Thirteen Film Trailer
6. 21 – 21 is loosely based around a true life story, where a group of M.I.T university students were coached by their teacher to become expert card counters. This led to them winning hundreds of thousands of dollars. The film mainly focuses on Ben Campbell (Jim Sturgess), as he tries to earn enough money for Harvard Medical School. Other cast members include; Kevin Spacey as their teacher, Kate Bosworth as Jill and Laurence Fishburne as Cole Williams etc. It currently has a 6.8 Star rating on IMDB.
21 Film Trailer
7. Vegas Vacation – Vegas Vacation is the fourth instalment of the National Lampoon's Vegas Franchise (our favourite has to be Christmas Vacation). The Griswold family are off to Las Vegas for a fun family vacation. Clark (Chevy Chase) is incredibly unlucky, whereas his underage son Rusty (Ethan Embry) can't seem to stop winning thanks to his alter ego Mr Papagiorgio. Expect plenty of laughs and cringe worthy moments throughout. It currently has a 5.9 Star Rating on IMDB.
Vegas Vacation Film Trailer

8. The Cincinnati Kid –An up and coming stud poker player known as the Cincinnati Kid (Steve McQueen) ends up playing against champion card player Lancey Howard (Edward G. Robinson) in a high stake game. It was released in 1965 and currently has a 7.3 Star rating on IMDB.
The Cincinnati Kid Film Trailer
9. Croupier – An inspiring writer (Clive Owen) accepts a croupier job at his local casino, as he hopes it will help inspire his writing. He soon becomes obsessed with the casino lifestyle and a down on her luck gambler called Jani (Alex Kingston). Will he help Jani pull of a casino heist? It currently has a 7.2 Star rating on IMDB.
Croupier Film Trailer
10. What Happens in Vegas – A drunken one night stand in Las Vegas results in a marriage and a huge multi-million dollar slot win for two strangers. Each believes the money belongs to them; however, a judge wishes them to stay married for 6 months before she will grant a divorce and unfreeze their winnings. It stars Cameron Diaz as Joy McNally and Ashton Kutcher as Jack Fuller. It currently has a 6.1 Star rating on IMDB.
What Happens in Vegas Film Trailer
What's your favourite casino themed film?

Site Of The Month

Guts Casino
Guts Casino brings new games from BetSoft, Net Ent, Microgaming and IGT. New players can claim up to £300 and 100 free spins when they join guts.com.

Featured Site










Newsletters
Signup for your email updates.Get special offers, news, competitions and more!