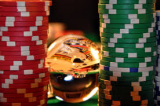 Ten Need To Know Facts about Las Vegas Casinos
By
Kelly Sharp
Whether you are a Las Vegas Casino virgin or a regular member on the strip, we would suggest that you check out our ten need to know facts about Las Vegas Casinos;
1. It all began in 1931 – On the 19th of March 1931, Governor Fred Balzar passed a bill that legalised gambling in the state of Nevada. The Northern Club was the first legalised gambling establishment to open in Las Vegas in 1931; however, it wasn't until technological advancements were made with air conditioning and irrigation in the 1940's that the dessert was made more appealing to developers. This led to a handful of other casinos being built, but it was when legendary mobster; Benjamin 'Bugsy' Siegel opened his Miami Beach style Flamingo Hotel that more extravagant hotels and casinos were built. In the 70's and 80's the hotels became larger, but it wasn't until 1991 that themed hotels such as Treasure Island, the Luxor and the MGM Grand arrived onto the strip. We started to look into how many gambling licenses were now held in Vegas and sadly we couldn't find an exact number, but it is rumoured to be over 1,700.
2. Casinos are designed to make you gamble – The majority of land based casinos in the world do not have any windows (so you cannot tell if it is day or night), there are also no clocks (so you don't know the time, or how long you have been playing) and they are often designed to be very maze like, so you have to walk past what seems like hundreds of different games to leave.
3. They have a Black Book – And no, this isn't where they keep the numbers of their favourite players, but rather the names of players they do not allow in their casinos. Back in the 1960's, the government wanted to crack down on the mobs involvement in gambling in Las Vegas casinos. They; therefore, required casinos to keep a black book that contained names of people with a notorious or unsavoury reputation. This led to some of the world most famous gangsters being added to every casino's Black Book. Nowadays the Black Book has been replaced with a Grey Binder, and if your name makes it into the book/binder, then you will never be allowed to enter, own or manage a casino in Nevada. If you get caught even entering a casino, then you could face up to a year in jail.
4. Nearly 40 Million People Visit Yearly – Thanks to research done by the LVCVA (Las Vegas Convention and Visitors Authority) we were able to find out that 39,668,221 people visited Vegas throughout 2013, which led to a $6,508,084,000 gaming revenue for just the Las Vegas Strip! In fact Clark County (this area includes; the Las Vegas Strip, the Boulder Strip and Downtown) had a gaming revenue of $9,676,458,000.
5. $485 is the average gambling budget that visitors set themselves – Once again thanks to the LVCVA, we were able to find out that the average visitor to Las Vegas sets themselves a $485 budget to spend in their casinos, and that they also on average spent 2 hours and 36 minutes gambling in a casino per day.
6. The majority of casinos have a Slots Club – They are free to join (as long as you are over 21 and; therefore, the legal age to gamble in Las Vegas), and can earn you rewards in relation to the amount of gambling you do at their casino (winning or losing). As with all gambling use the reward system logically, as it is pointless trying to get a free meal or a small cash prize, if you have to spend an arm and a leg to get it.
7. Some casinos offer gaming lessons – If it is your first time to Las Vegas, or you want to brush up on a particular game, then a range of casinos offer lessons to spruce up your game. Some of them are even complimentary!
8. Not all high rollers are welcome in casinos – In reality you cannot just enter a casino and gamble with millions of pounds of dollars in a high risk game. What actually happens is that the high roller will contact the casino to let them know that they would like to gamble 'X' amount of dollars at their casino. It is then up to the casino if they take the risk or not. If they give the go ahead, a contract will be drawn up saying that the player will gamble a set amount of money at their casino, and in return they will agree to give them the red carpet treatment at their hotel and casino. This could include; a free suite, the best tables at restaurants, free limo use and/or free VIP tickets to the hottest shows and nightclubs etc. You may be thinking that it is odd for a casino to turn away business; however, someone gambling over $5 million could potentially net over $30 million in winnings, if they were having a lucky day. Therefore, it is a big gamble for the player and the casino.
9. You can smoke on the casino floor – The smoking laws in Vegas allow you to smoke in a casino that has more than 15 slot machines, as well as bars, nightclubs and strip clubs that do not serve any food. The newer casinos do have pretty good smoke ventilation systems, if you wish to not be breathing in thick clouds of smoke.
10. Card counting is not illegal, but it isn't welcomed either - Currently card counting is legal under federal, state and local laws in Las Vegas, as long as the player has no external card counting device or is not being assisted by other players to count cards. However, Las Vegas Casinos do not welcome card counters, and will use different countermeasures on anyone they expect to be counting cards.

Site Of The Month

Guts Casino
Guts Casino brings new games from BetSoft, Net Ent, Microgaming and IGT. New players can claim up to £300 and 100 free spins when they join guts.com.

Featured Site










Newsletters
Signup for your email updates.Get special offers, news, competitions and more!