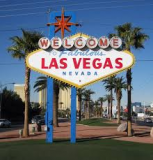 Nine Unbelievable Facts and One Lie About Las Vegas
By
Kelly Sharp
Here at Casino-Reviewer we challenge you to read through our list of unusual and somewhat unbelievable facts about Las Vegas, to see if you can sort fact from fiction. We will give you a small hint though, as only one of the facts is a complete and utter lie.
1. The Flamingo hotel was named after legendary mobster Benjamin 'Bugsy' Siegel's girlfriend; Virginia Hill. In late 1945, Bugsy Siegel and his mob partners purchased a two-third stake in Billy Wilkerson's up and coming hotel and casino. The casino was finally opened in December 1946 and was affectionately given Bugsy girlfriends nickname; Flamingo, due to her long and skinny legs. Things didn't go well for Bugsy though, as it is rumoured the mob had him killed for overspending on the hotel (it cost around $6 Million) and embezzling their money.
2. No hotel floors start with the number four in The Wynn. In Chinese and other Asian cultures the number four is seen as an incredibly unlucky number. Why? As it's homophonous to the Chinese word for 'death'. Therefore, the Wynn and some other hotels in Las Vegas do not have any floor numbers starting with a four. It seems they learnt from MGM's mistake, as the main entrance to their casino used to require patrons to walk through an open lion's mouth. This is also very unlucky in Asian cultures, and led to a decline in business. It has since been removed from the casino.
3. The Las Vegas Strip isn't actually in Las Vegas. The 6.8km long Las Vegas Boulevard is actually located south of the Las Vegas Limits. This means that it is part of Clark County, Nevada. It is between the unincorporated towns of Paradise and Winchester.
4. Las Vegas is home to five of the top ten largest hotels in the world. The prize for the largest hotel in Las Vegas goes to the MGM Grand. This hotel has 30 floors and 6,582 rooms and counting.
5. Paris Las Vegas planned to build a full size replica of the Eiffel Tower. However, the airport soon caused a problem with this plan as its incoming and outgoing planes would have had too much trouble flying over it. They therefore decided to build it to half scale.
6. It costs $60 in cash to gain a wedding license in Las Vegas. Las Vegas on average has 115,000 wedding per year, and this is no surprise when you can gain a marriage license within a couple of hours. You can even have Elvis marry you, if that kind of thing floats your boat.
7. There's a company in Las Vegas that can help you cure your hangover. They say what happens in Vegas stays in Vegas; however, a banging hangover from too much drinking can stay with you for days. Hangover Heaven based in Las Vegas believe they can help though, and claim they can cure 90% of hangovers in just 90 minutes. This is through an IV drip that is full of different vitamins.
8. The famous Welcome to Fabulous Las Vegas, Nevada sign was designed by Betty Willis. Betty designed the sign at the request of local businessman Ted Rogich, who went on to sell it to Clark County, Nevada. The design was never copyrighted, and is used freely on multiple Las Vegas souvenirs.
9. Prostitution is legal in Las Vegas. Prostitution is legal in Las Vegas, which you may become aware of by the amount of men and women who hand out fliers about brothels and strip clubs on the famous strip.
10. The city of Las Vegas is over 100 years old. Las Vegas turned 100 years old on the 15th of May 2005. We bet it was an impressive birthday party!
Did you manage to guess the lie? Scroll down to check!
Answer – Number nine is the lie. Prostitution is illegal in Clark County, Nevada where Las Vegas is based; however, it is legal in some counties in Nevada. These counties are usually in isolated areas. However, like the majority of cities in the world, you will see that it is tolerated to a degree.

Site Of The Month

Guts Casino
Guts Casino brings new games from BetSoft, Net Ent, Microgaming and IGT. New players can claim up to £300 and 100 free spins when they join guts.com.

Featured Site










Newsletters
Signup for your email updates.Get special offers, news, competitions and more!