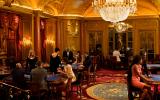 Ritz Club Casino Wins Legal Case Against Losing Gambler
By
Robert Bell
In an unusual court case, Ritz Club Casino has won against a Swiss businessman who claimed he was a vulnerable gambling addict after losing £2 million in a matter of hours.
Safa Abdulla Al-Geabury went to the casino on the 19 February in 2014 and lost big time on the roulette wheel. He paid for his chips with a cheque, which was later returned unpaid. He also asked for another £5 million worth of credit, a request which was refused by the casino.
The businessmen is said to be worth $US 1 billion and has homes in Chelsea and Geneva. He said during the case that he went on a "frantic gambling spree" which he went on to call "frenzied and uncontrolled"
The Ritz Club Casino in Mayfair is described as being the most exclusive in the city and having the highest levels of luxury and opulence. Al-Geabury claimed in court that he had excluded himself for life from the casino in order keep his wagering habits under control. He had counter claimed the casino for an additional £3.4 million he said he had lost there after excluding himself.
The judge in the case was Mrs Justice Simler. She said that Al-Geabury has to pay back the £2 million that he lost in the casino in addition to interest. According to the judge, the unlucky gambler was an "intemperate witness" and his version of what had happened that evening "lacked credibility" as well as being "riddled with inconsistency".
The judge dismissed the 52 year old businessman's claim, as he had failed to establish that he had a gambling problem or that he had warned casino staff about it.

Site Of The Month

Guts Casino
Guts Casino brings new games from BetSoft, Net Ent, Microgaming and IGT. New players can claim up to £300 and 100 free spins when they join guts.com.

Featured Site










Newsletters
Signup for your email updates.Get special offers, news, competitions and more!