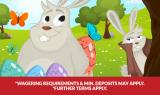 Find the Easter Eggs in Guts Casino Offer
By
Kelly Sharp

It is no surprise to see plenty of Easter-based promotions just now on our favourite online casinos. The good news is that many of them run on even after Easter Sunday has come and gone.
One such deal worth getting a piece of is the current Guts Casino offer. This is an Easter egg hunt that lets you pick up useful free spins.
It is worth mentioning that you can take part in this promotion regardless of whether you play on your desktop, laptop or mobile device. When you spin the reels in a game at this casino you get a point that helps in your search for those fantastic free spins.
This Guts Casino offer has been on the go for a while now and will carry on until the start of May. As well as looking for those free spins, you can also pick up some juicy daily casino bonuses along the way too.
You will get given those free points for playing on any of the slots games at Guts Casino, as well as a number of their other games. So how do you know how well you are progressing?
It's all about the chocolate on this Guts Casino offer. When you enter your Guts account you will see a chocolate bar that needs filled up. Once you fill it with lovely chocolate you will get a handsome Easter egg.
Typically, you will get given the choice of a couple of different slots on which to spend your free spins. This gives you a chance to find out more about their terrific range of games.

Site Of The Month

Guts Casino
Guts Casino brings new games from BetSoft, Net Ent, Microgaming and IGT. New players can claim up to £300 and 100 free spins when they join guts.com.

Featured Site
£49224,8784
Adam M
Palace
£5205,6865
Charles
Palace
£7791,5076
Erica R
Palace











Newsletters
Signup for your email updates.Get special offers, news, competitions and more!